"What if you wake up and then you're in wonderland, but it's catland, where all people are cats, but all of them are braggards, but you can eat them, and they taste like chicken?"
That was a comment left by milkberry on bem69's blog, and reflects the kind of nutter that she is. Which is why, she's quite the perfect fit for a site of nutters like ours. Milkberry is known in the real world as Rumanza Zaini (or Ikin, or Kiki, depending on who you ask). She's a Malaysian living in Japan with her husband for the past two years, who just picked up vector art a short two years ago.
"I started with photoshop...", Rumanza laughs. "Because I was a rabid anime fan, I thought I should just jump on the bandwagon and draw anime characters. Wasn't very good at it, sadly. I even had a DeviantArt account to show off but that account has grew dust taller than me"
That was 4 years ago. During the heyday of her anime craze (her favourites were Bleach and Full Metal Panic in case you were wondering), Rumanza had a close friend who was studying in Japan, and supplying her anime cravings on a monthly basis. "I decided to be friends with him so that he can buy me stuff from there.". Little did she know that a few short years later, that friend would become her husband, and uproot her life as a customer exec in KL to unfamiliar Japan. she laughs. "I'm such a bad person! I didn't know we'd eventually hook up. After we got married, I followed him there. He hates anime ironically,".
One of milkberry's early works from her DeviantArt space.
However, it didn't quit turn out to be paradise, even for a devout anime fan like her. "Japan wasn't really that wonderful as I imagined," she said. "Japanese can be awfully rude..I dont know how to speak fluent Japanese, so at the time, the best option for me was to be a teacher. My friends are all English teachers here and hearing stuff from them, I know enough that I'd rather not be an teacher."
Apparently, Japanese schools aren't far from what's being portrayed in animes, "You wanna be a primary school teacher teaching kids who like to poke your ass and squeeze your boobs when you're not looking?" she says. " I think it's a cycle. They see it in anime and they do it and it goes on and on."
For this reason, Rumanza is a housewife. With no job and few friends in a new country, she struggled to find things to keep herself occupied. "This is going to sound so weird. I joined a knitting group so we meet every week." she shares. "If not I'd have died of boredom."
Somewhere along the way, some of the artists (including fellow Foldees contest, Bem69) encouraged her to try out Adobe Illustrator to expand her passion for drawing. "I liked the clean style so I dabbled in it for a while," She took part in IllustrationFriday, which challenges designers to a new theme each week. The incentive to designers was to showcase their work, but to Rumanza, it was a great way to keep her passions alight, and her skills sharp.
"I used to do it on occasions for my blog but then I joined illustrationfriday.com so I make illustrations every week thanks to that" she recollects. "It was kinda like a homework. I have to push myself to do it".
Slowly, but surely, she started developing her own style. "During my deviantart years I was more into emulating other people's art," she says. "At some point I realize that I want to have my own style and I went ahead with that. This is going to sound so corny but Sanrio helped a lot, and I realized that I love that cutesy vector look".
Rumanza did, however, have a few early influences that shaped the way her beautiful, simple style of art is now. "It's hard (to name my influences) because a lot of great cutesy vector artists inspire me, but I don't want to follow them 100% coz that would be just stealing. so I incorporate I guess? plus I try to make my own little world," she says. "Meomi inspires me a lot. Tokyobunnie, crowdedteeth... oh and Charuca too."
Initially, she was wary of showing her works. One of the first contests she entered was the Uniqlo T-shirt design contest. "It didn't go too well. My design was too elaborate for them, jugding from the ones selected".
Too elaborate? I asked to see her design.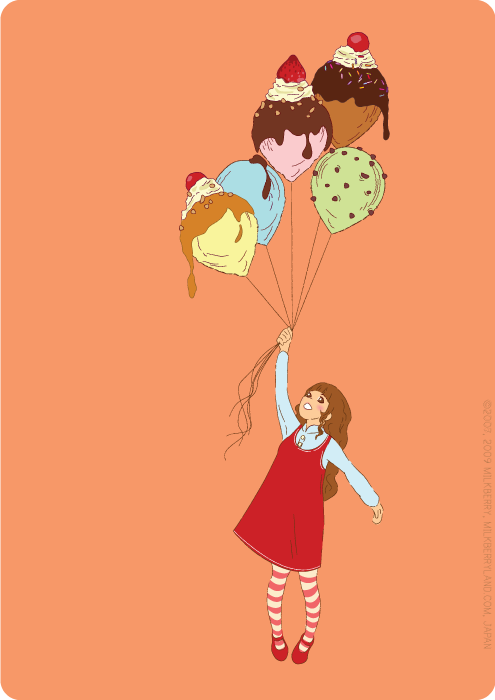 Milkberry's first contest submission for the Uniqlo T-shirt design contest.
It didn't look very elaborate to us. In fact, it looked exactly like the type of design we love. "I made this and some of the designs that were in the semifinals were like a plain t-shirt with a single red dot and another one with a single blue square," she recalls. "I lost to a dot. A freaking DOT!".
From there, the lesson she learnt was to always design for her target audience. And it was about that time, that she found out about Foldees."I've been a Foldees stalker since the "We Are All Geeks" contest!" she confesses. "But I didn't think I was good enough laaa. I have self-esteem issues.. To be honest, I didn't expect to win but I just design something that I feel I want to buy. I hope I can beat myself for the next contest though"
Milkberry's winning entry to the contest, entitled "Please Say Yes"
She even admits to having a few more ideas that she didn't even submit. "when I have an idea I'd paste virtual post-it notes on my desktop". When asked about the details of those designs, she's purposefully vague, describing them merely as "zombie-themed and haha hentai-game-ish"...almost as if she feels they still aren't good enough for public consumption just yet.
To close the interview, as we do with our other interviews in the past, we asked about her feelings of winning. Her reply was exactly what we've come to expect from this talented, humble, and perhaps a little eccentric little designer from Tokyo. "Just lucky I guess" she retells. "When I won Foldees, I got a migraine for three days because I got overwhelmed".
"That wasnt for the closing statement actually," she laughs. "But if you want to use to it, go ahead".
Congratulations once again, Rumanza! You can check out her artwork at www.milkberryland.com.